PUBG Invitation Code: How To Get PUBG Beta Invitation Code v2.8?

PUBG Invitation Code: PUBG Mobile releases new update every 2 months, and to test the new features PUBG Mobile often releases a beta version to get feedback about the new features and improve the game in the final version. But to access PUBG beta, you need a 10-digit secret invitation code (only for 20,000 users).
In this article, you will find the complete tutorial to get PUBG Mobile Invitation Code. Invitation code act as a passkey to PUBG Beta. Invitation codes are valuable as they grant players the opportunity to test new features and changes to the game and linked with your account.
Download PUBG Mobile Beta iOS 2.8 – [PUBG Beta iOS Update]
Download PUBG Beta Version 2.8 for Android
What Are The Requirements Of Invitation Code For PUBG Beta?
Requirements are straightforward, and any player can quickly fulfill the requirements. The criteria to get Invitation Code PUBG Mobile 2.8 Beta are:
Play any mode for the last 5 days
Account level must be 15+
Account must be 1 week old
Spend 1-2hr in the game
PUBG Mobile 2.8 Update Release Date
How To Get PUBG Beta Invitation Code v2.8?
Follow the below steps to get PUBG Beta Invitation Code for v2.8. In case of any error, try connecting with a VPN.
Step 1: Click here or login to the game > Go to events
Step 2: Navigate to Recommended > Beta Test Invitation > Tap on the Get It banner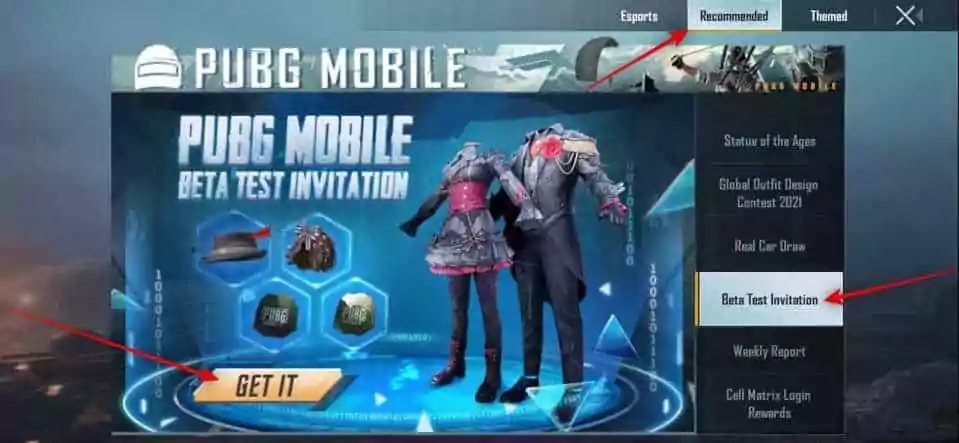 Step 3: In the Binding Code section, tap on Generate Code
Step 4: Copy the latest PUBG Beta Invitation Code 2023
Step 5: Download the PUBG Test Server Beta Version
You can easily download the latest version from the guide that we have published to download PUBG Beta.
Note: Do not share your exclusive link code with anyone else. Your official server account will be penalized for any violation and cheats made on the test server.
PUBG Mobile 2.8 Update Download APK & OBB
How To Use PUBG Mobile Beta Invitation Code v2.8?
Follow the below steps to use PUBG Mobile Beta Invitation Code v2.8. In case of any error, try connecting with a VPN.
Step 1: Download & Install PUBG Mobile Beta > Login as Guest
Step 2: Paste the 10-digit Invitation Code (under, You must enter the Invitation Code to enter the game)
Step 3: Click Ok > Continue
Step 4: The Beta Test will be activated for you
In case of a parsing error, users should re-install the APK file or download the resource pack with a VPN.
Disclaimer: Since PUBG Mobile is currently banned in India, players from the country are strictly advised not to install or download the game on their devices.
PUBG Name Generator With Symbols ✅ PUBG Name Style Copy Paste
FAQ
Why is the Invitation Code Only for 20,000 Users?
The invitation code is allowed for limited users only to prevent server issues from overloading.
Can Someone Use Others Invitation Code?
No, you can't use others' code because it is prohibited. If you are getting caught, your main account might be banned because they are linked.
How To Get Beta Invitation Code In BGMI?
Currently, there is no option to get the Beta Invitation Code in BGMI (Battlegrounds Mobile India). But you can become a Beta Tester on Google Play Store to enjoy some pre-released features.
One Invitation Code Can Be Used In How Many Accounts?
One Invitation code can be used in only one account; if you try to use it in another, it won't work.
Can I Find the PUBG Invitation Code List?
No, you find the PUBG Beta Invitation Code list because it is not allowed to share it, and those who are sharing will be punished.
Does PUBG Invitation Code Generator Work?
No, PUBG Invitation Code Generator doesn't work, and those tools are a waste of time.
What is The Invitation Code For Beta PUBG Mobile?
PUBG Mobile Beta Invitation Code is a 10-digit secret code offered by the game for limited users (20,000) to test all the new upcoming features before it is released for all users.
Wrap Up
I'm assuming this article would be helpful for you to get complete information about PUBG Invitation Code: How To Get PUBG Beta Invitation Code v2.8. Please let us know in the comments below if you have any queries or suggestions or want to share anything. For more news and updates, stay tuned to WargXP.com.