BGMI Replay: How To Enable Death Replay In BGMI?
Follow @WargXp
This is the step-by-step tutorial on How To Enable Death Replay In BGMI. There are some situations when you need to watch the Death Replay In BGMI that how you were finished. Was it a trick, or it was natural because there are lots of cheaters in the game who applies different kinds of tricks to win the game?
There are some situations when watching a replay becomes compulsory because the shot we receive doesn't look natural. But with the help of Death Replay, we can discover how was I knocked out. By this feature we can also find out cheaters and report it to the game developer.
How To Report a Player In BGMI (Battlegrounds Mobile India)?
How To Unfriend In BGMI – 4 Steps To Remove Friends In BGMI
BGMI Partner Program: How To Get BGMI Partner Title?
Note: The Death Replay feature can only be used in Classic mode and Arcade mode. After activating this feature, there may be some lag or overheating.
How To Enable Death Replay In BGMI?
Step 1: Click on the Up arrow (Bottom right corner) > Settings
Step 2: In Basic settings, enable Death Replay
How To Watch Death Replay In BGMI?
Step 1: Start a match in Classic or Arcade mode
Step 2: When you are finished by someone, click on Death Replay option near spectate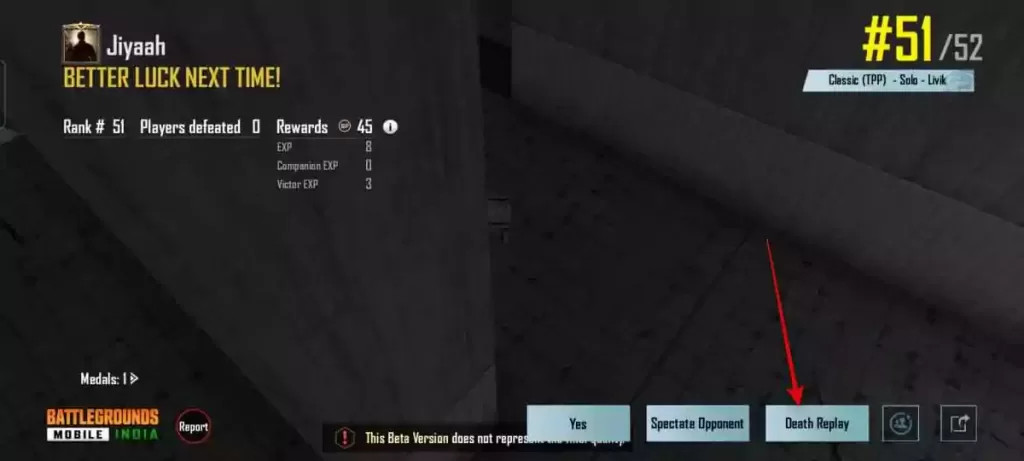 Step 3: The replay of your shot will be played from the opponents perspective
Step 4: The replay will be of around 24 seconds, in the replay you will see the weapon used by the opponent, their KD, Match Played, Distance, Damage (Your & Opponent).
Note: To reduce battery consumption, the replay will be slightly different from the actual match.
BGMI Lobby: How To Get Gun In Lobby In BGMI Spawn Island?
BGMI Partner: How To Make Partner In BGMI Connection?
BGMI Material: How To Get Material In BGMI?
I'm assuming this article would be useful for you to get complete information about BGMI Replay: How To Enable Death Replay In BGMI?. If you have any query, suggestions, or want to share anything, please let us know in the comments below. For more gaming news and updates, stay tuned with WargXP.com.