How To Send a Gift To Friends In BGMI [Battlegrounds Mobile India] Without UC & Increase Popularity?
Follow @WargXp
This is the step-by-step tutorial on How To Send a Gift To Friends In BATTLEGROUNDS MOBILE INDIA (BGMI) Without UC? It is all up to you if you want to send in-games items for free or with the UC.
Gifts are the best way to build a stronger relationship with friends or anybody else we want to have with us. Gifting in-game items in BGMI makes the game more enjoyable. The good thing about BATTLEGROUNDS MOBILE INDIA when you send gifts or play with your friends on regular basis their synergy increases.
Also Check: How To Buy Ornament In BGMI Without UC?
What Is Synergy In BGMI?
Synergy in BATTLEGROUNDS MOBILE INDIA is the point that you gain on playing play with friends or sending them gifts.
More Synergy = More Titles You Get for your friend.
Points To Keep In Mind Before Sending Gifts
One can send limited gifts at once

Players can gift only the menioned items by the game

Players will know about the gift once they log in to the game

You can't send outfit, skins, or any other items available in your inventory

UC gifts have option to send custom message also (If you don't have UC follow the guide on How To Buy UC In BGMI With Google Play Redeem Code?)
How To Send Outfit and Skin In BGMI?
This is the step-by-step procedure to send outfit and skin to friends in BGMI purchased with UC. But there are some requirements to send premium items to friends such as You must be friends for more than 72 hours, Synergy must be above 20, Character level is greater than 10.
Step 1: Click on the Shop icon
Step 2: Click on Give
Step 3: Choose anything that you want to send Treasures, Outfits (Helmet Skin, Shoe Skin, Hat, etc), Weapon Skins, Vehicle Skin, and Parachute Skin. But currently, there is no option to send Gun skin to BGMI friends.
Step 4: Tap on Give (If the player name is not visible it can also be searched from the search bar)
This is how you can send outfit to friend in BGMI but if your friends wants something else which is not available here then you can also send UC to friend in BGMI so that they could purchase that item.
How To Send a Gift To Friends In BATTLEGROUNDS MOBILE INDIA?
Here are the steps you need to follow in order to send in-game gift items to your friends.
Step 1: Click on the friend's avatar (the list of friends will appear on the side window)
Step 2: Click on profile whom you want to send gift > Tap on Send a gift
Step 3: Choose the item you want to gift. Here you can send gifts with UC or for free, but the benefit of sending with UC you will get an option to send messages as well.
Step 4: Enter the amount > Click Give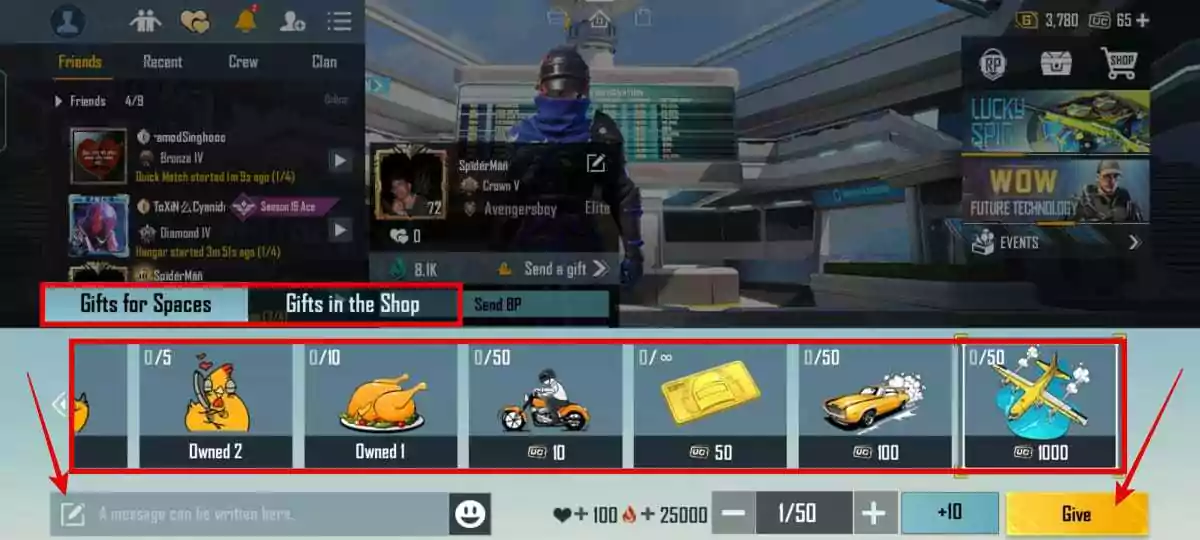 Step 5: From Gift in the shop you can send RP Upgrade Card (₹460) or Elite RP Upgrade Card (₹1,150)
These free items increase the popularity of your friend to whom you are sending these free items. Each of these free items has a different popularity level those are:
| Item | Popularity | Price |
| --- | --- | --- |
| Like | 30 | FREE |
| Like (Chicken) | 10 | FREE |
| Heart (Chicken) | 20 | FREE |
| Grilled Chicken | 30 | 10 Silver |
| Motorcycle | 200 | 10 UC |
| Gold Banknote | 800 | 50 UC |
| Sports Car | 2,200 | 100 UC |
| Baller Airplane | 25,000 | 1,000 UC |
Also Check: How To Share BGMI Sensitivity Settings and Controls Layout Using Share Code?
This is how you can send gift items to a friend in BATTLEGROUNDS MOBILE INDIA either for free or with UC. UC items have some extra options whereas free items are limited. If you have any queries regarding sending gifts in BGMI please let us know in the comments below.